MISSION STATEMENT
"Working together with parents, church and community to create a distinctive environment where the unique nature of each child is respected and fostered."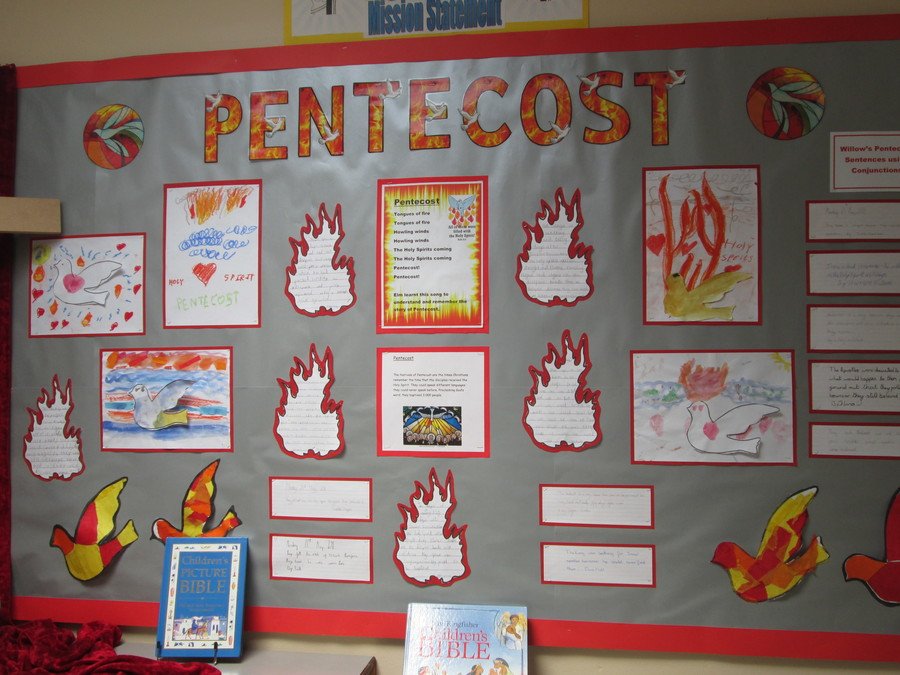 Buddhism Faith Week
We had some visitors from the Jamyang Buddhist Centre in Leeds. They taught us how to meditate. Each class then furthered their understanding of Buddhism by researching a question. Here is a display of some of what we found out.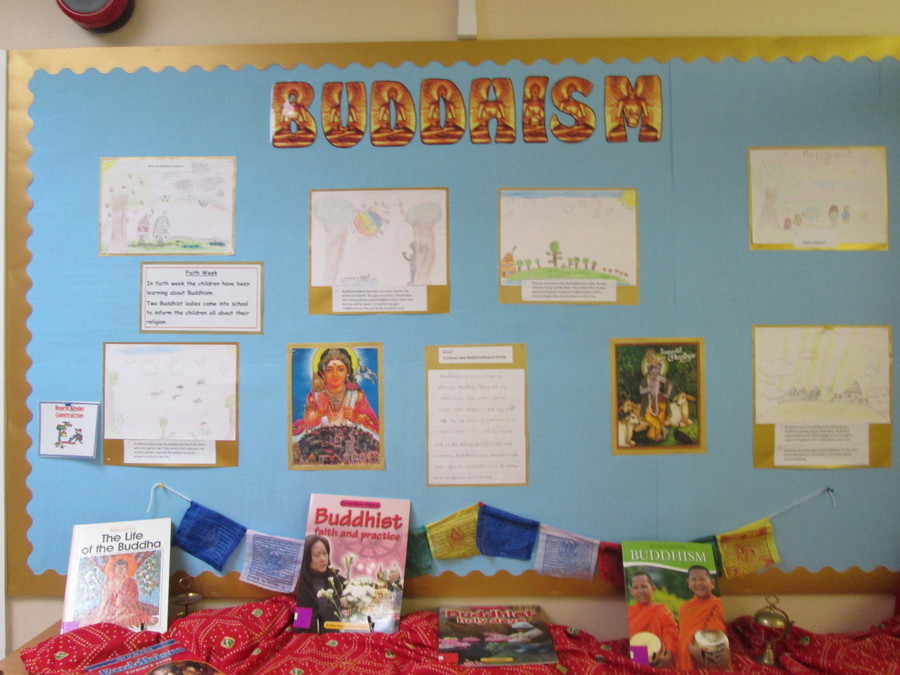 Friendship
This term we have been focusing on the value of Friendship.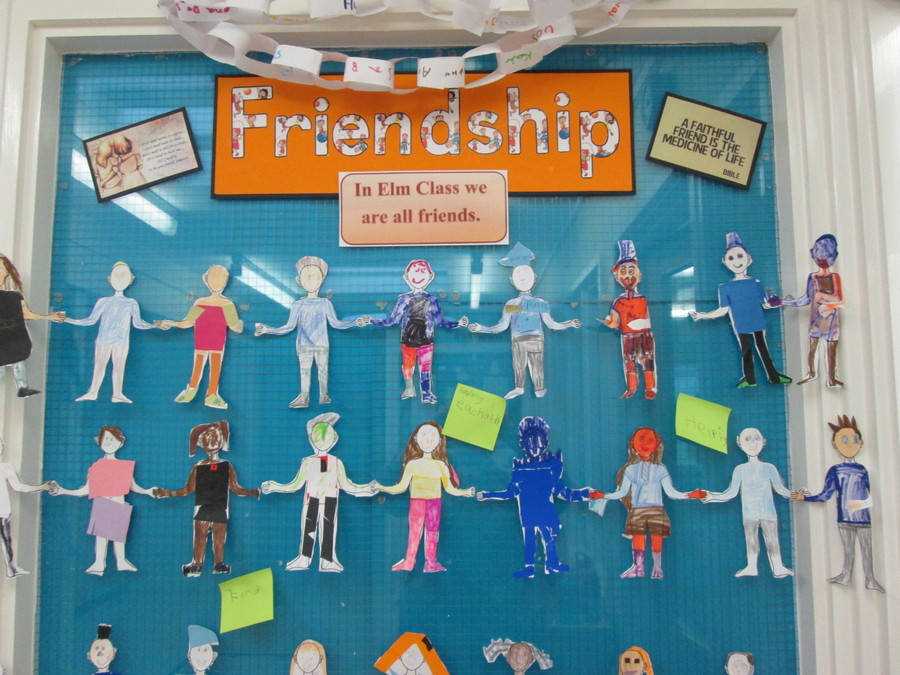 Harvest Festival 2017
Every Class did a presentation as part of the Harvest Festival. Elm Class produced a poem of Harvest Hope.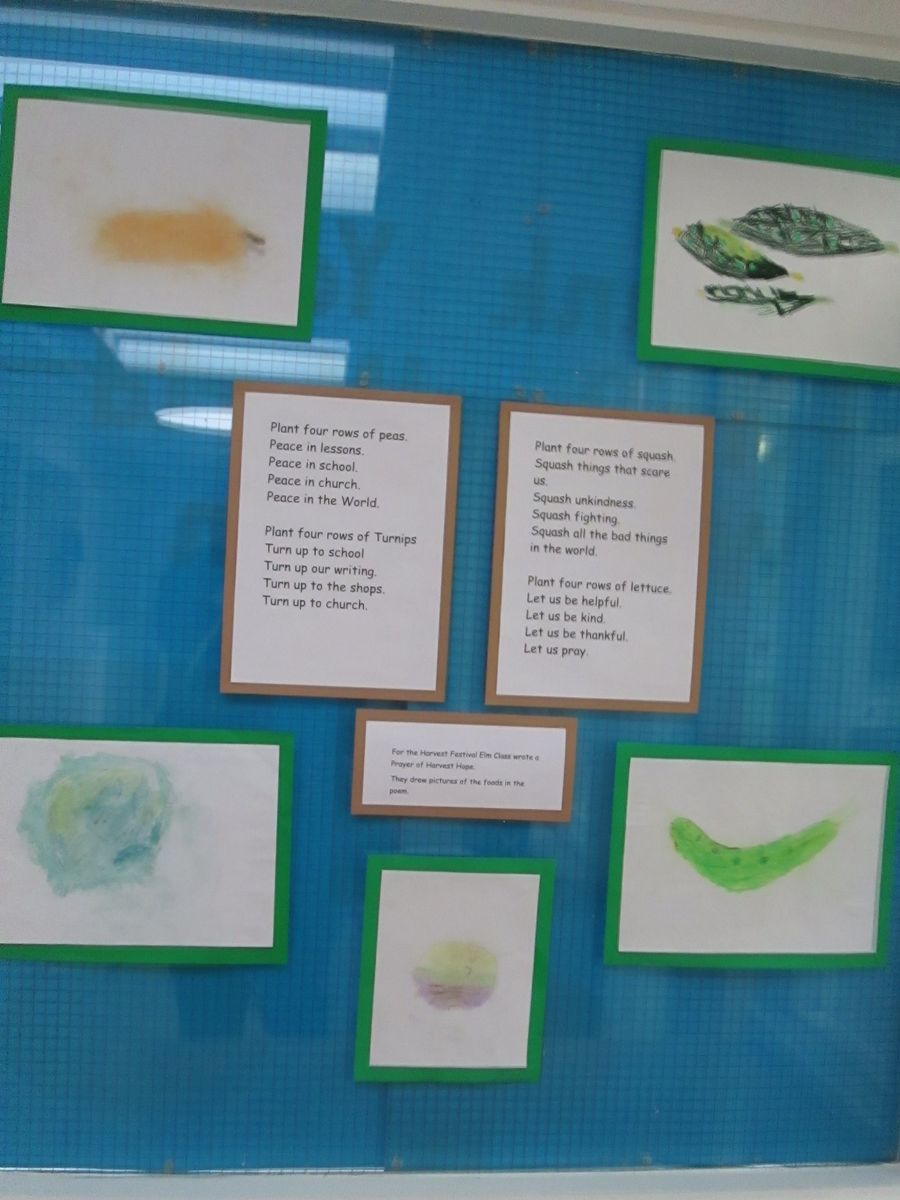 Christian Values - Our chosen Christian Values are Forgiveness, Friendship, Responsibility, Hope, Trust and Truthfulness. So far, since we began looking at the values in September 2015 we have covered Friendship, Responsibility, Forgiveness and Hope. Here is a whole school display to remind us of those values.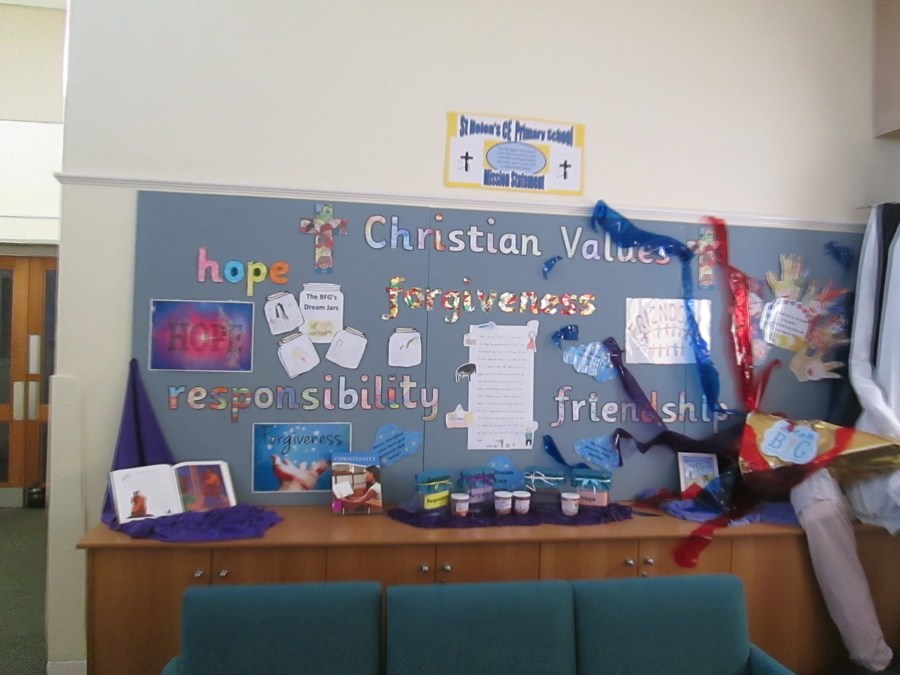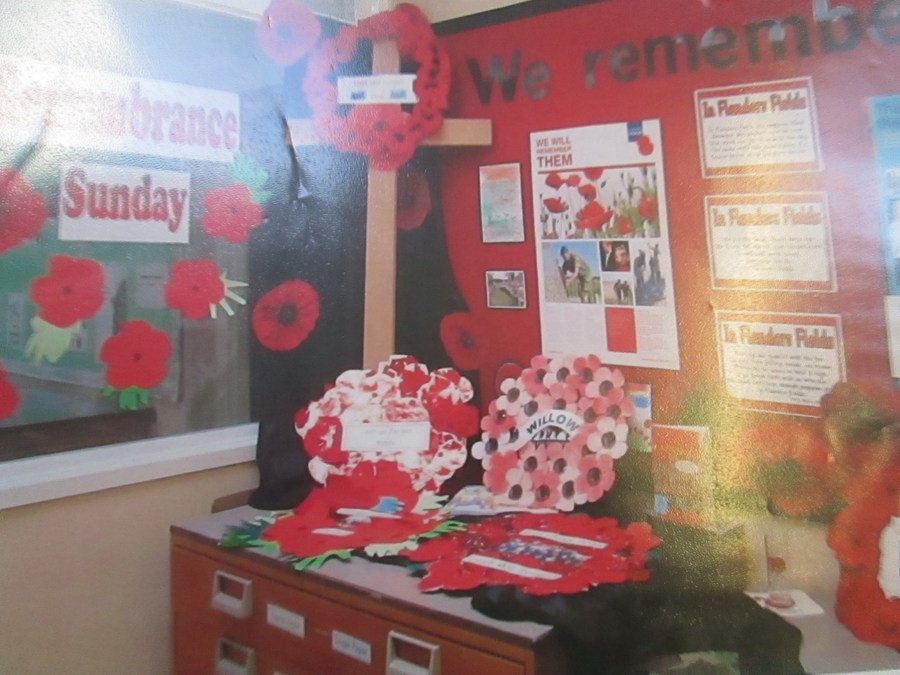 Faith Week
As part of our Faith Week in Autumn 1 we looked at Islam. Every class took an area of Islam to find out about. We fed back to the other classes during assembly time. We put our work together to produce this display.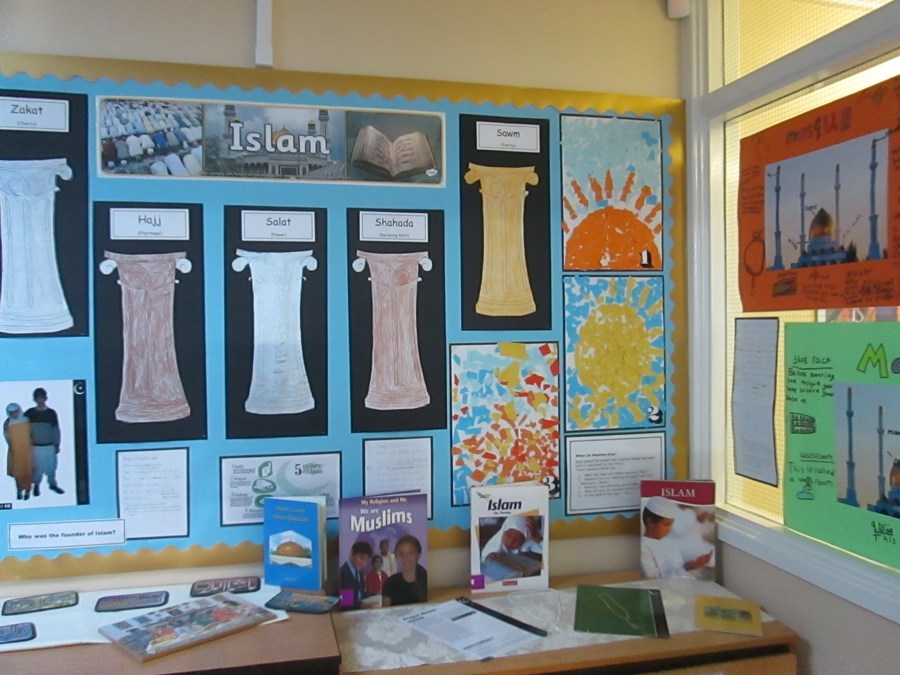 Autumn Term Reflection Area - Key Stage 2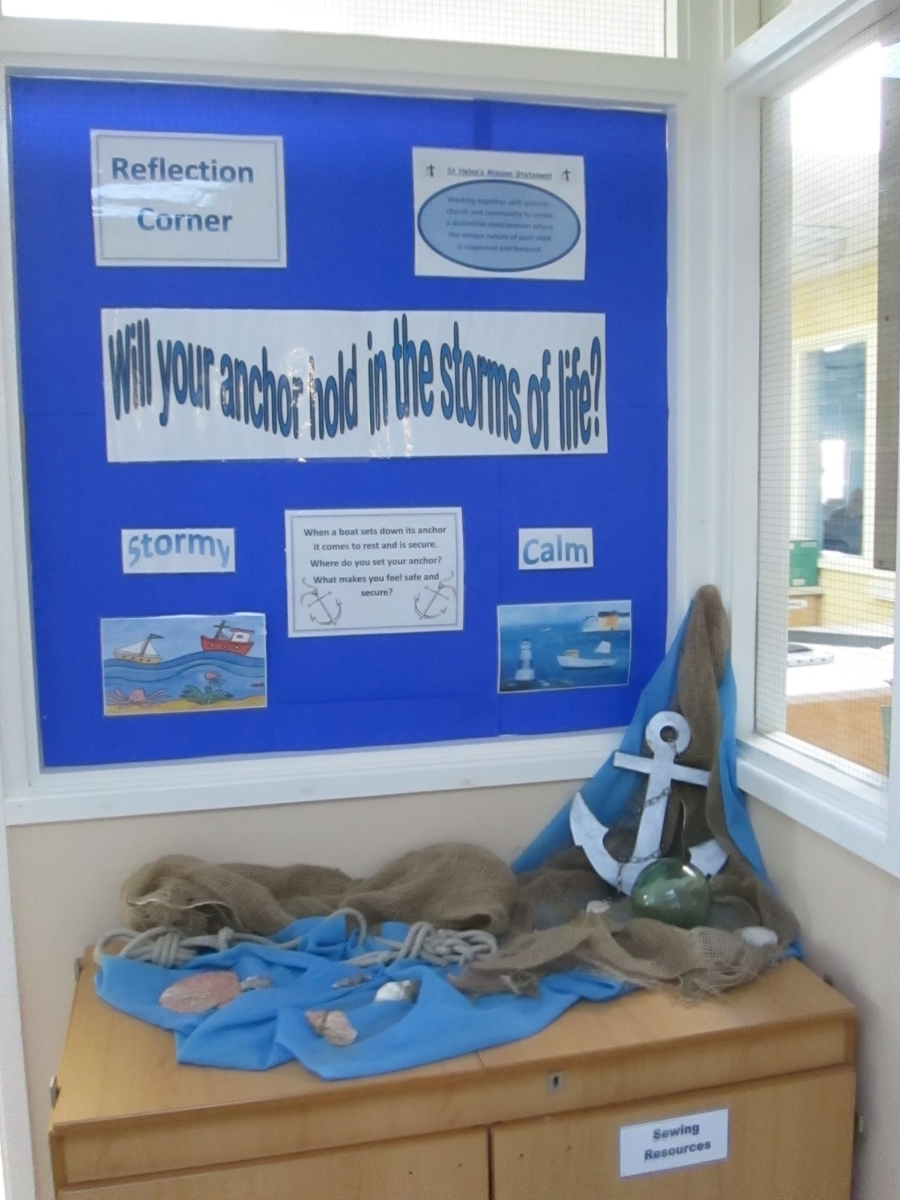 Autumn term Reflection Area - Key Stage 1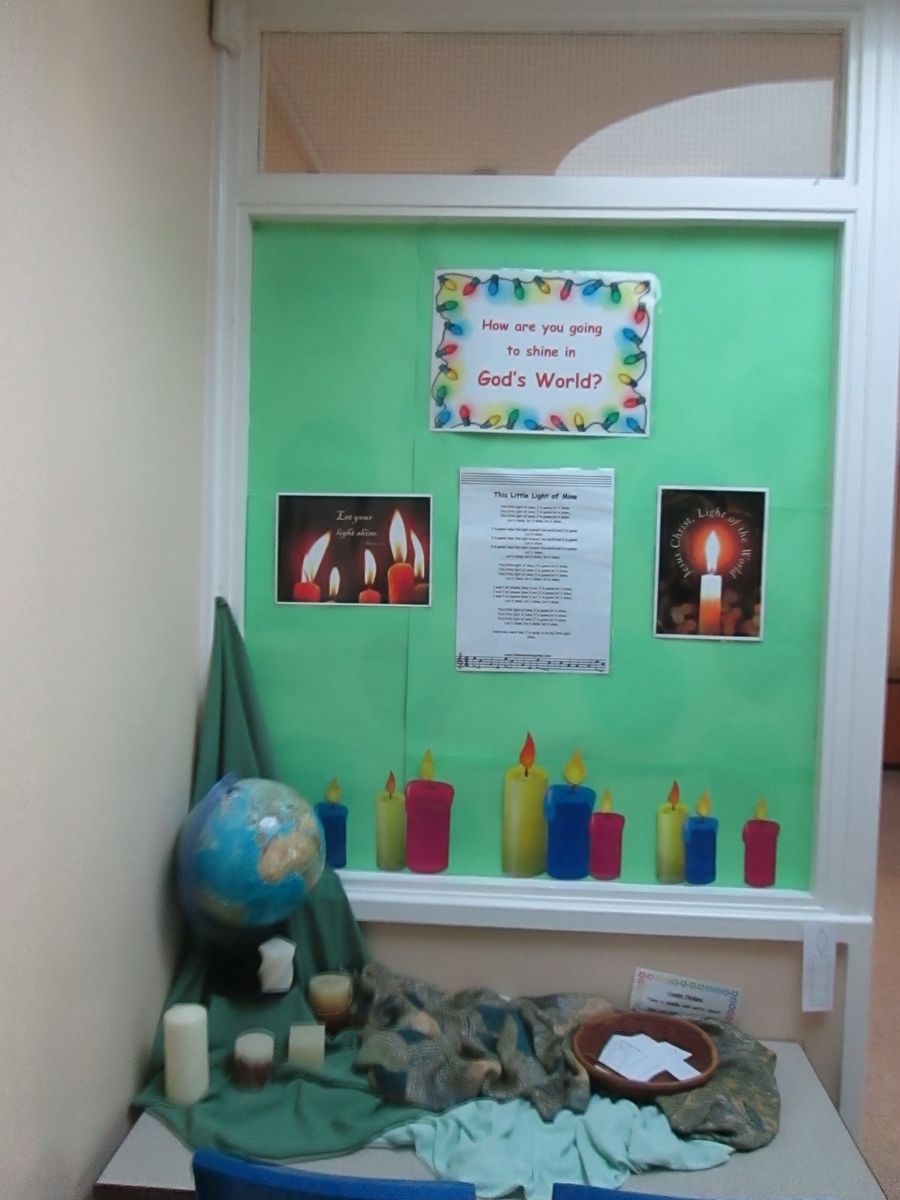 Buddhism
As part of our Faith Week in Autumn 2 we looked at the Buddhist Faith. Each class researched a question about Buddhism and shared their answers with the rest of the school. Here is a display of some of our work.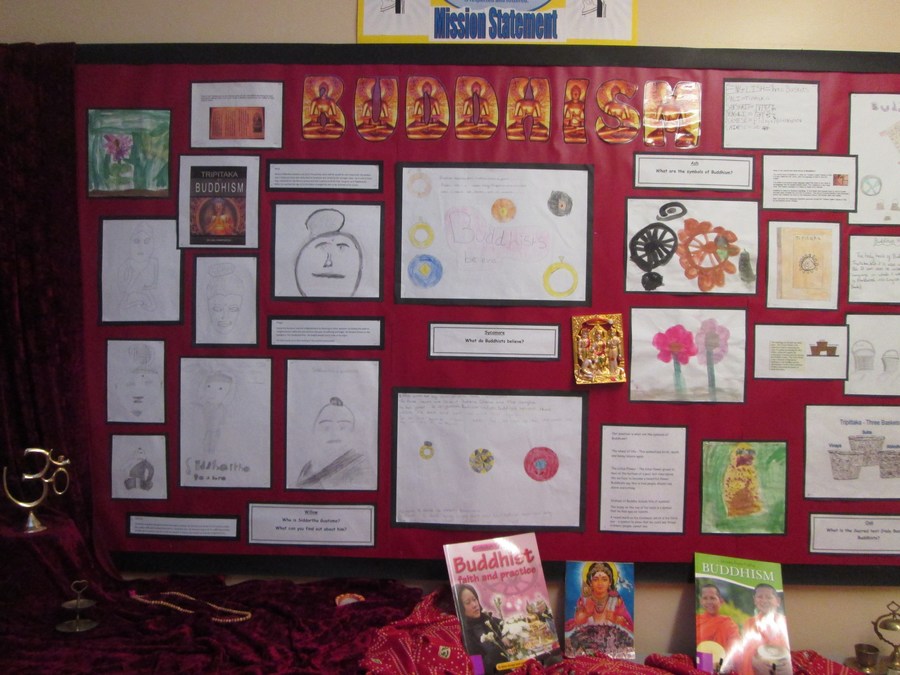 Away in A Manger
This year we worked together as a school to develop a Nativity scene for Away in A Manger. Each class took part of the scene to create... stars, angels, Mary, Joseph, Baby Jesus, the manger and shepherds with sheep. The Three Kings are ready to arrive at Epiphany.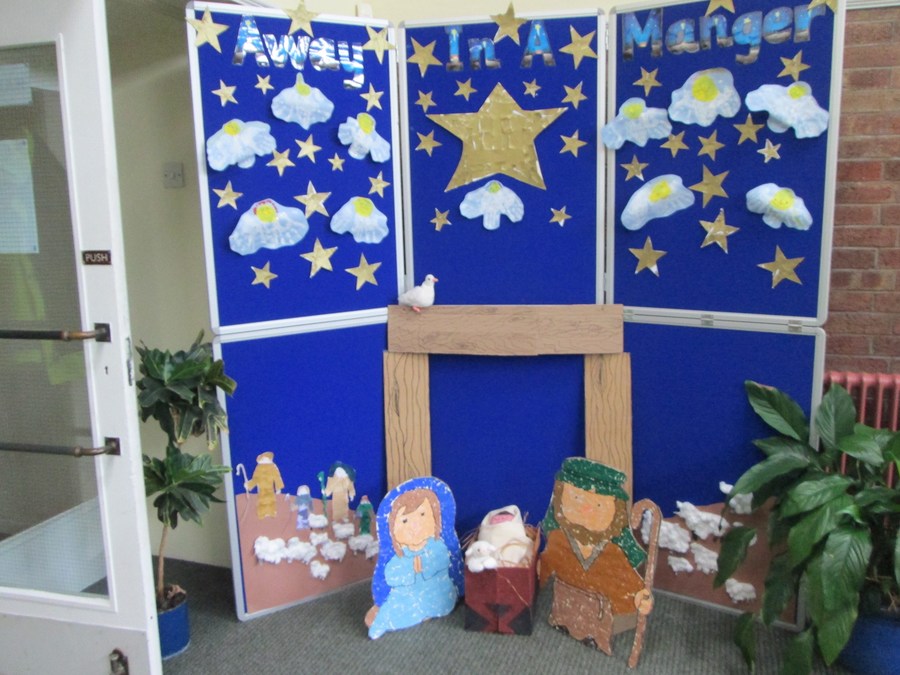 Christian Values
This term we have been exploring friendship in and through Christianity. Key Stage 1 have been learning the story of Creation and thinking about how Adam was lonely without a friend so God created Eve. Key stage 2 discussed Jesus and his friendship with his disciples.
Every child in school created a picture of themselves which was mixed with children in other classes to produce our fantastic friendship display. We are all friends who care for each other at St Helen's. It doesn't matter what age we are.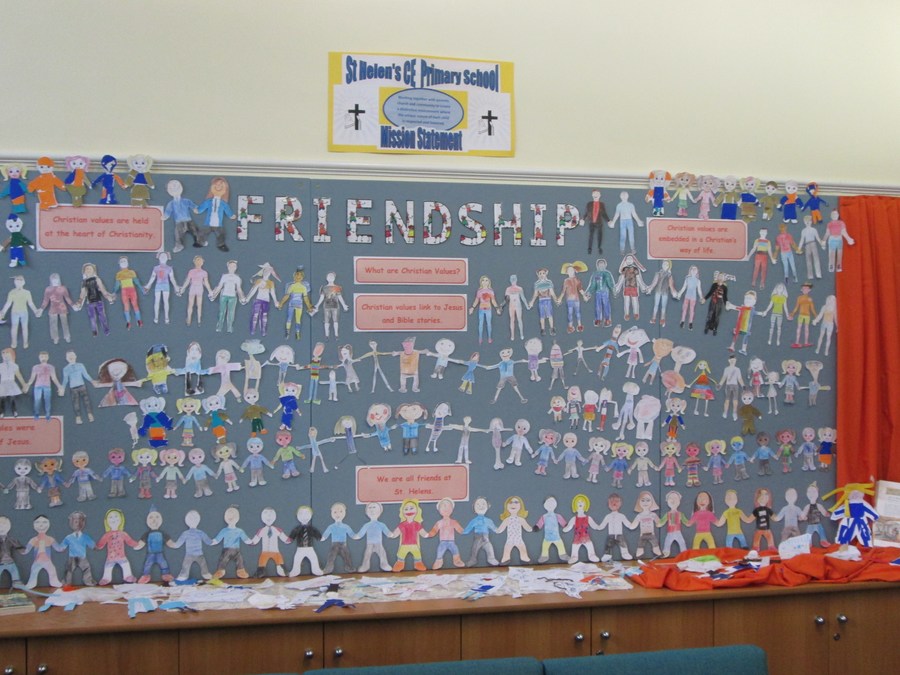 Reflection Areas
We have a number of reflection areas throughout school where children can quietly reflect about bible stories or the world we live in. We have also recently introduced a 'Wonder Why' tree which relates to our Christian Value friendship theme.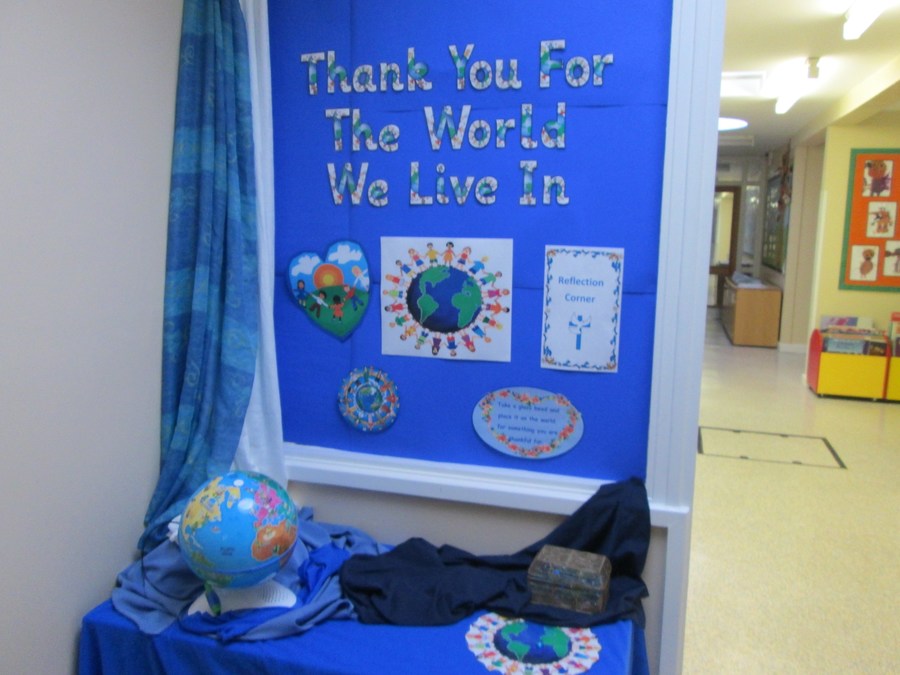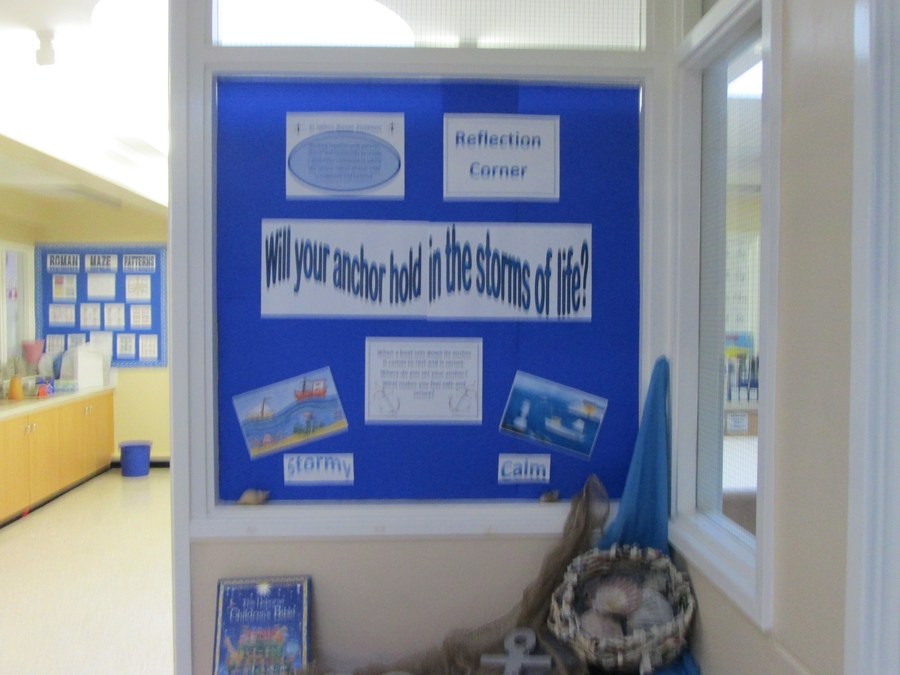 Gospel Hall Bible Presentation
On Monday 21st September 2015 Gospel Hall visited our school. They did a presentation of Bible stories. The children got to meet some characters from the Bible. They also got chance to go in the stocks as did year 2 teacher Mr Conway as our final picture shows!
Gospel Hall Bible Presentation.
On Monday 21st September Gospel Hall visited our school to do a presentation of the bible. The children met lots of bible characters and even got to go in the stocks (so did Mr Conway and Miss Sheldon as our pictures show!)
Christian Values
Following our consultation with children, staff, parents and governors our 6 Christian Values have been chosen for the next two years. These are;
Friendship, Hope, Forgiveness, Trust, Truthfulness and Responsibility
We will be beginning with friendship in the September term.
Hand to Mouth Spiritual Journeys
We were lucky enough to have the volunteers from Hand to Mouth to come in and lead our Year 4 and Year 6 on spiritual journeys. Year 6 went on a 'moving on' journey and Year 4 went on a journey 'into prayer'. Below are some of the activities that they undertook.
HINDUISM
The 5th February to the 12th February was our Alternative Faith week. Mrs Jennings took Collective Worship and introduced the Hindu faith to the whole school. Then each class was given a question about Hinduism that they had to research. The following week they presented their findings to the whole school. The children learnt a lot from each other about this particular faith. Look at our beautiful display of the work that was done by each class.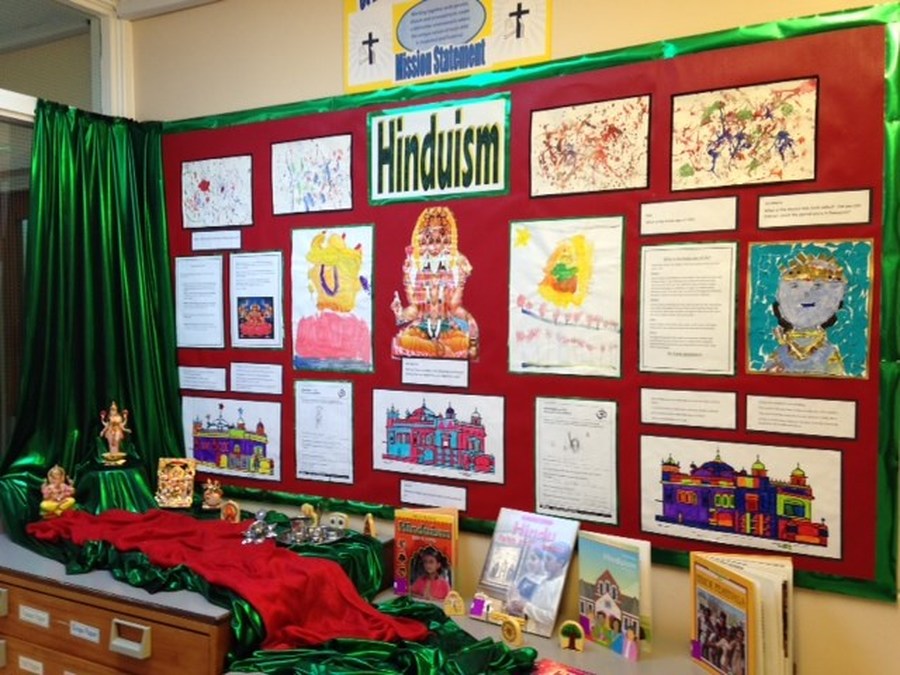 CHRISTINGLE 2015
We held our Christingle service on Friday 30th January. We also hold our Christingle service as near to Candlemass as we can. Every child made a Christingle, which they took home after the service. The Pupil Worship Committee told everyone the story of how the first Christingle was made. We raised £239.86 to send to the Children's Society by collecting loose change..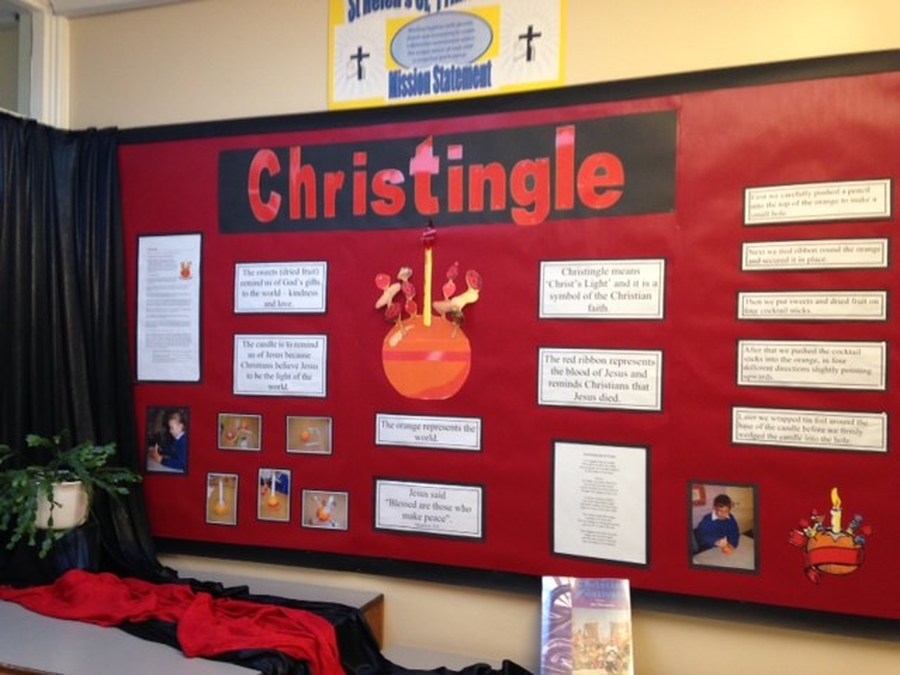 ADVENT 2014
The season of Advent began with Fr. Robert coming into school and leading our whole school Collective Worship. Following Collective Worship Fr. Robert spent some time in each class. As he walked into Foundation Stage one child was heard to say that 'God had just walked in.'
Each day our Advent wreath is lit during Collective Worship and each class has their own Advent Candle to burn.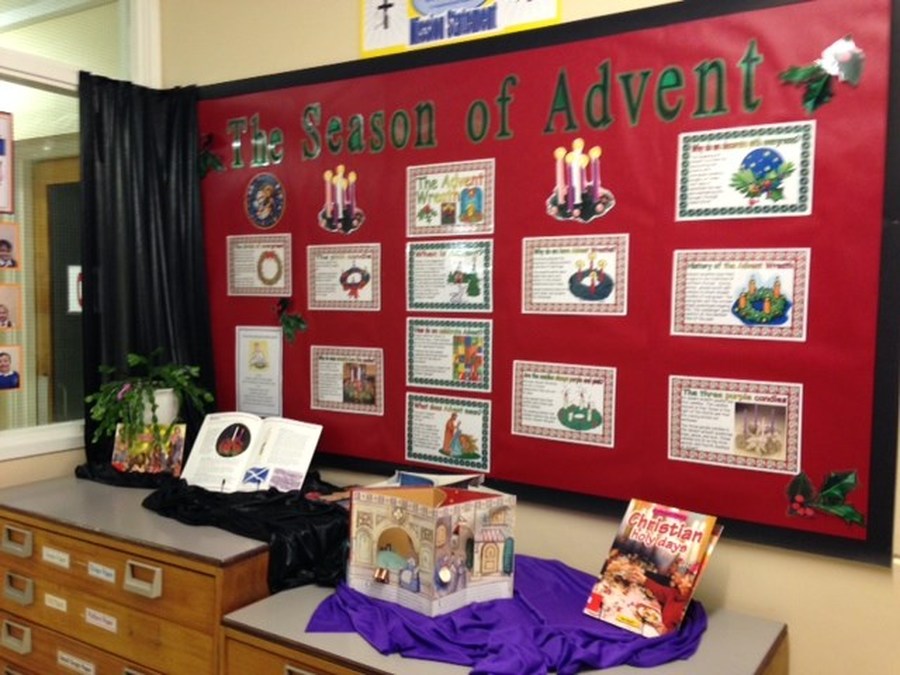 HARVEST FESTIVAL 2014
We held our Harvest Festival on Friday 3rd October. Our parents generously donated tins and packets which were then divided between Westfield Food Bank and the residents of Archbishop Holgate Hospital.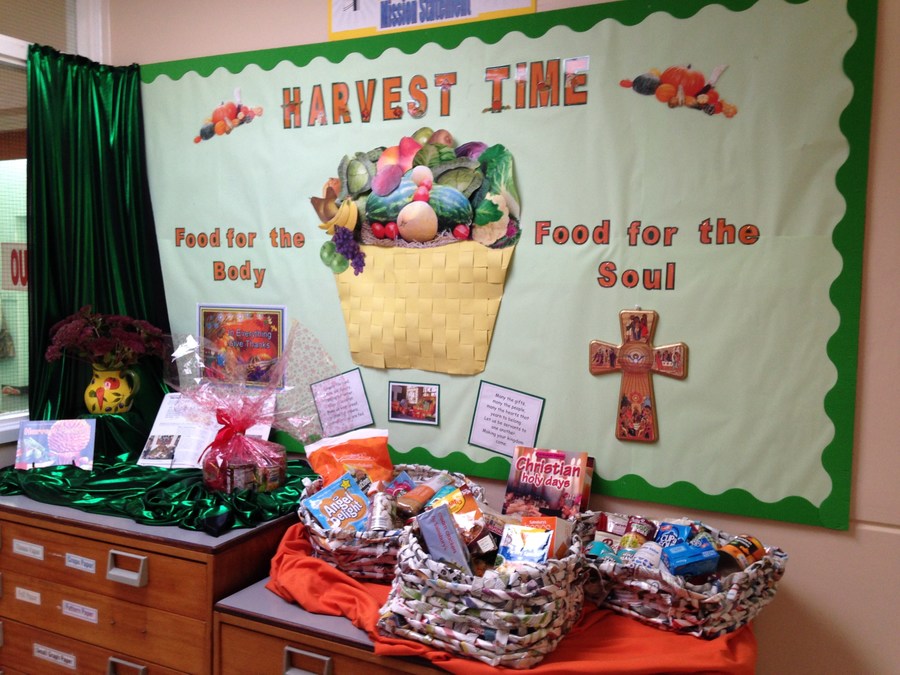 THE HOLY TRINITY
Oak class worked in groups to produce a piece of artwork that they felt depicted the Holy Trinity.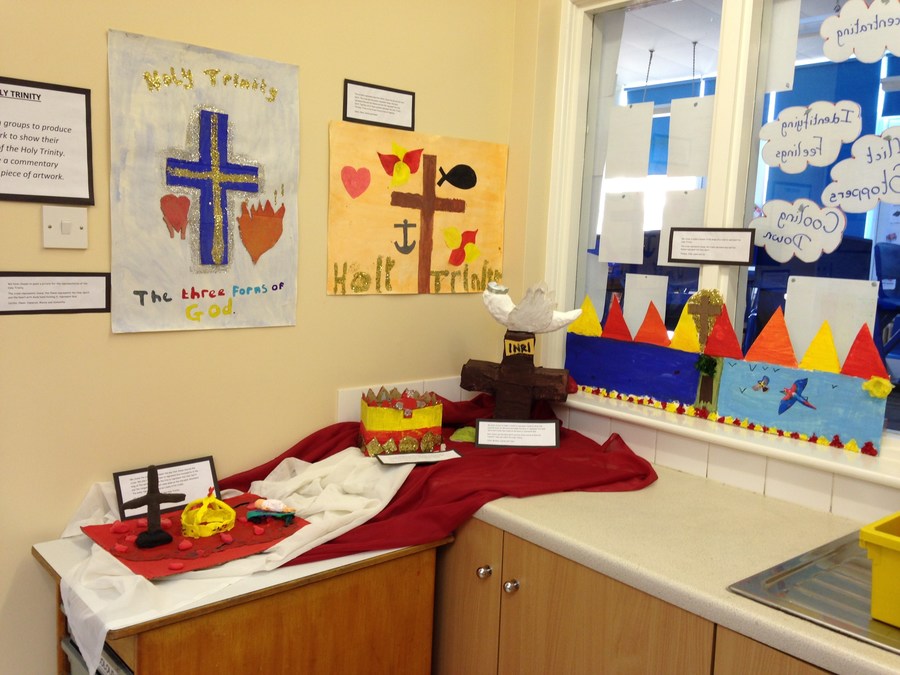 CONFIRMATIONS 2014
Seven of our children were confirmed by Bishop Tony on Sunday 13th July at St. Helen's Church.
Click here to see more photographs
Just one of the photographs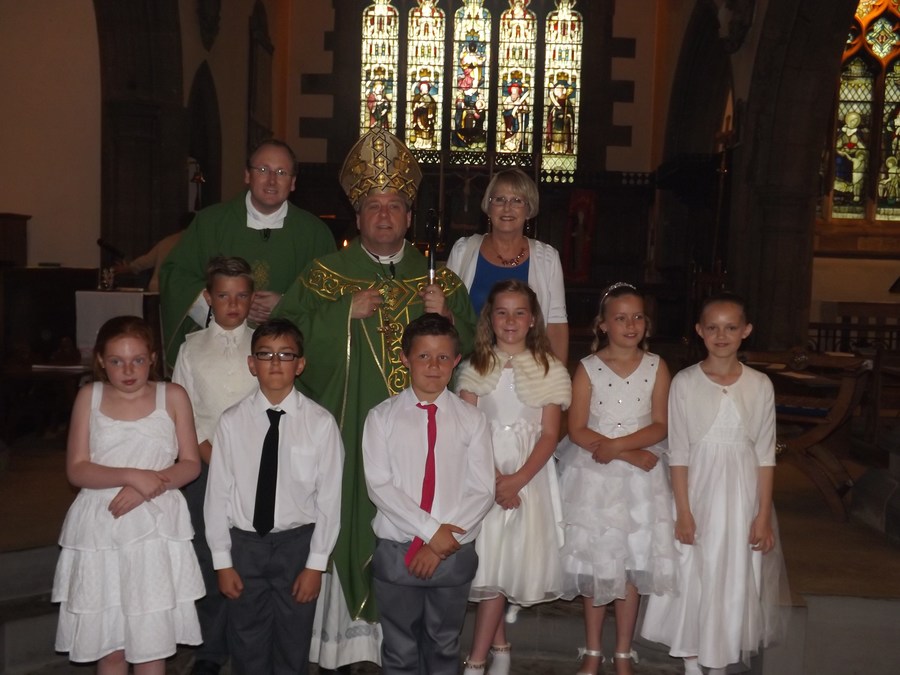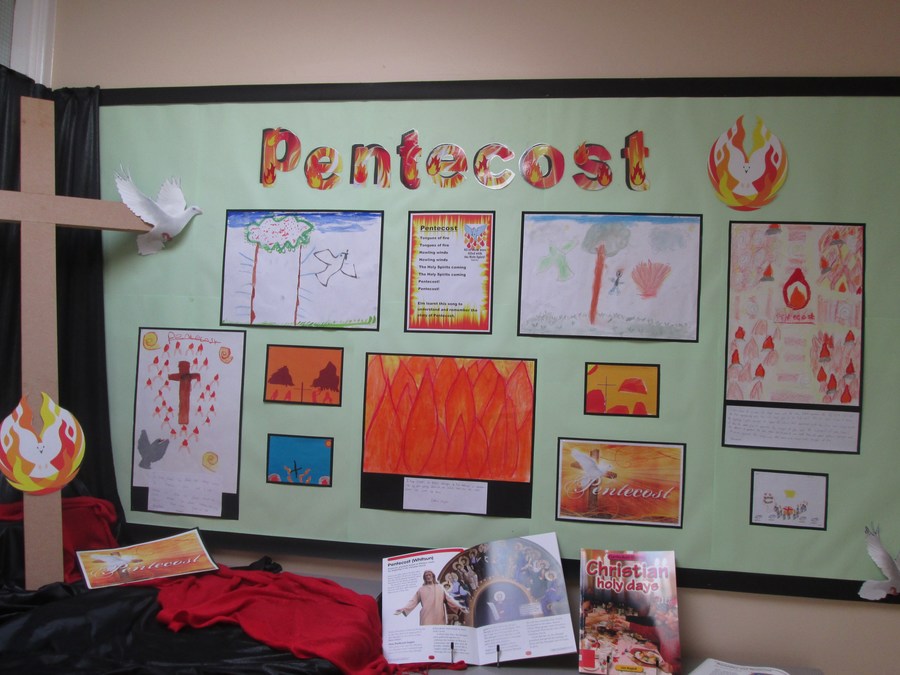 PENTECOST 2014 - Artwork
EASTER 2014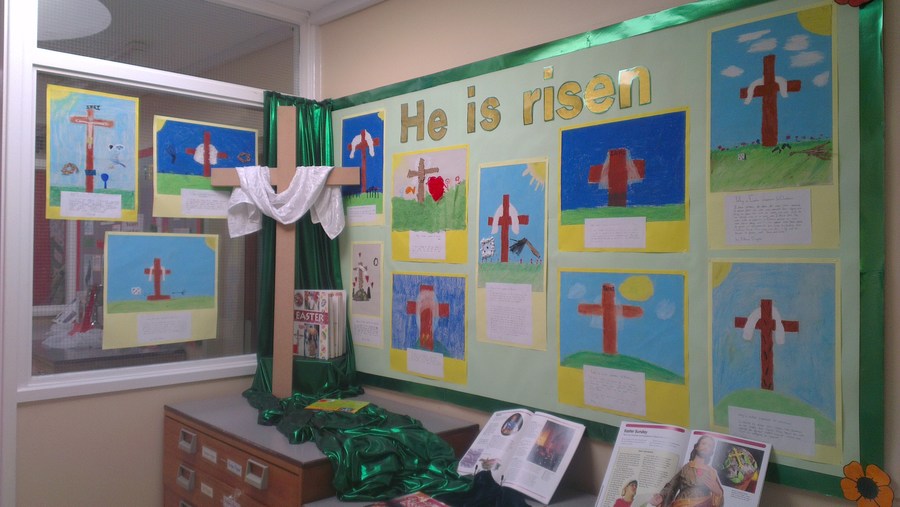 Oak class produced this artwork in their RE lessons. Their work answers the question - 'Why is Easter important to Christians?'