Visit this page to find out what Ash have and will be doing this year. This page will include snippets of our amazing work and also links that you may wish to click on to support your child with their learning.
Please remember to sign up to the School Class Dojo.
Useful Information
Your child should bring a water bottle every day with fresh water.

Please remember to write your child's names in any new items of uniform. We can then return items to who they belong to.

As part of the year 1 curriculum we still have access to Foundation Stage outdoor provision. Your child will need wellies if they would like to play on the grass.

Any money for milk, trips, fundraising etc. still need to be brought in an envelope, clearly marked with your child's name, amount and class.

If you wish to speak to me at the end of the school day may I ask that you wait until I have returned all the children to their grown ups. The safety of the children is paramount and it can be difficult particularly at the start of the term getting children out as many faces are still new.

PE Days

Ash Class PE days are Wednesdays and Fridays. Please ensure kits are in school. Kits should include dark shorts/ jogging bottoms and a white t shirt. Please ensure your child has a change of footwear (trainers or pumps) as we will be going outside if the weather permits. As with all belongings PE kits should be clearly labelled so misplaced belongings can be returned as soon as possible.

Reading and Homework

Your child will be reading daily to a teacher in our literacy programme 'Success For All.' If your child is in a 'Roots' group they will bring this book home to share with you, if they are in a 'Wings' group please ask them about the books they have been reading in class. They will also bring home an Oxford Reading Tree book. Please note that this is for home reading.

Homework

I know that home life is often a busy time with clubs and outings but I do ask that you find some time every day to listen to your child read. Other homework will mostly be set on a Friday and will usually be spellings to learn over the weekend. If you have any questions please ask me.
So what does this year's learning look like...
Key stage 1 Reflection Area
We like to spend time in our reflection area quietly saying thank you to God for his wonderful world.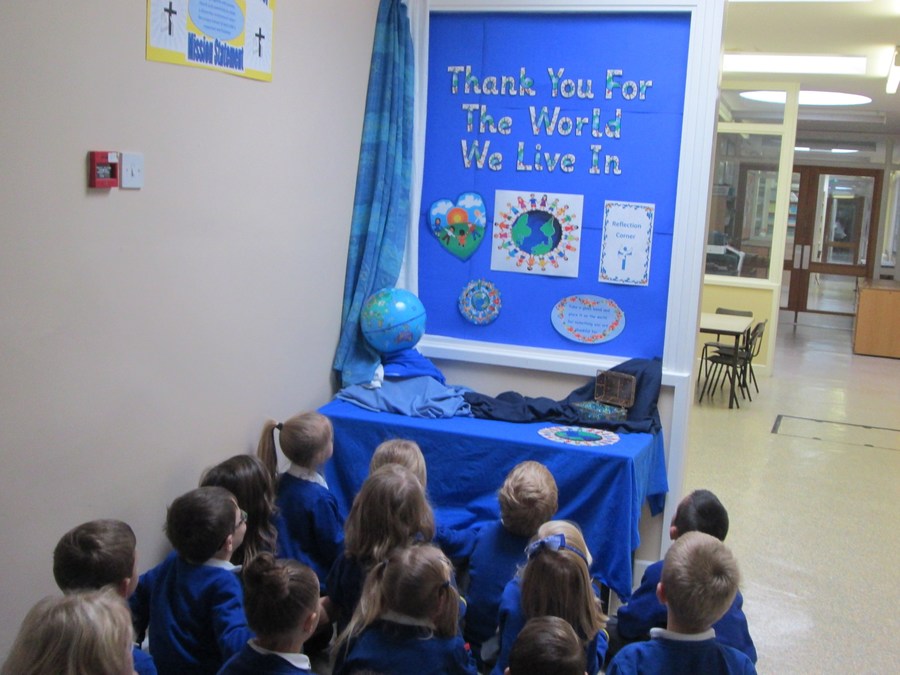 These files have been saved and minimised. You can still download these files by clicking on the 'Download Document' button underneath.
Comments (0)
There are currently no comments.